IMPULSIVITY AND SELF-HARM BEHAVIOR IN YOUNG ADULT WOMAN WITH AUTHORITATIAN PARENTING: A CASE REPORT
Keywords:
impulsive, self harm, authoritarian parenting
Abstract
Introduction: Authoritarian parenting is a risk factor for impulsive behavior and children's self-efficacy. The maladaptive behavior of a teenager is influenced by many factors, including parenting, family and friendships. This can cause various psychological problems.
Case report: A 21-year-old woman with impulsive behavior and selfharm turned out to have authoritarian parenting and a genetic history.
Methods: data were taken from interviews and mental status examinations in psychiatric clinics, then a literature review was carried out.
Result and Discussion: Both permissive and authoritarian parenting styles led to personality disorders. Authoritarian parenting has a negative impact on the adaptation of behavior and personality of children in adolescence and can persist into adulthood if not handled properly. In addition to parenting, genetics and the environment also influence adolescence.
References
Malakar, Partha., Mullick, Debaalena. Role of Parenting Style in Impulsivity and Perception of Stress among First Year College Students. International Journal Health and Research. Vol.8; Issue: 1; January 2018 p178-185.
Hentges, Rochelle F., Shaw, Daniel S., Wang, Ming-Te. 2017. Early childhood parenting and child impulsivity as precursors to aggression, substance use, and risky sexual behavior in adolescence and early adulthood. University of Pittsburgh.
Karimi, Sirwan., M. Pirmoradi, A. Ashouri, A. Aghebati. 2021. Relationship of Temperament and Character Traits, Emotional Regulation and Perceived Parenting With Self-harming Behaviors in Adolescents. Iranian Journal of Psychiatry and Clinical Psychology. Winter 2021, Volume 26, Number 4
Das, Tapasri., Mukherjee, Tilottama. Parent- Child Relationship in Adolescents with Borderline Personality Disorder- A Comparative Study. EAS J Psychol Behav Sci; Vol-2, Iss-4 (Jul-Aug, 2020): 84-89
Sarwar, Samiullah. 2016. Influence of Parenting Style on Children's Behaviour. Journal of Education and Educational Development. Vol. 3 No. 2 (December 2016)
Olla, Marice Benga., Daulima, N. H. Catharina, Putri, Yossie S. E. 2018. The experience of parents implementing authoritarian parenting for their school-age children. Elsevier. Enferm Clin. 2018;28(Supl 1 Part A):122-125.
C. Govender, K. Young. A comparison of gender, age, grade, and experiences of authoritarian parenting amongst traditional and cyberbullying perpetrators. South African Journal of Education, Volume 38, Supplement 1, October 2018. https://doi.org/10.15700/saje.v38ns1a1519.
Theresya, Julia., Latifah, Melly., Hernawati, Neti. The Effect of Parenting Style, Self-Efficacy, and Self Regulated Learning on Adolescents' Academic Achievement. Journal of Child Development Studies. 2018, Vol. 03, No. 01, page 28-43
Ahmad, S. I., & Hinshaw, S. P. (2017). Attention-deficit/hyperactivity disorder, trait impulsivity, and externalizing behavior in a longitudinal sample. Journal of Abnormal Child Psychology, 45, 1077-1089. http://doi.org/10.1007/s10802-016-0226-9
Kuppens, Sofie and Ceulemans, Eva. Parenting Styles: A Closer Look at a Well-Known Concept. Journal of Child and Family Studies (2019) 28:168–181. https://doi.org/10.1007/s10826-018-1242-x
N. Batool, H. Shehzadi, M. N. Riaz, et al. Paternal malparenting and offspring personality disorders: Mediating effect of early maladaptive schemas. Vol. 67, No. 4, April 2017
KM Nautiyal, MM Wall, S Wang, VM Magalong, SE Ahmari, PD Balsam, C Blanco, R Hen. Genetic and Modeling Approaches Reveal Distinct Components of Impulsive Behavior. Neuropsychopharmacology (2017) 42, 1182–1191
C. Skoglund, A. Tiger, Christian R.,P. Petrovic, Philip A., Clara H., David M.C., Ralf K. H. Familial risk and heritability of diagnosed borderline personality disorder: a register study of the Swedish population. Molecular Psychiatry (2021) 26:999–1008. https://doi.org/10.1038/s41380-019-0442-0.
Banica, Iulia., Sandre, Aislinn., Weinberg, Anna. Overprotective/authoritarian maternal parenting is associated with an enhanced error-related negativity (ERN) in emerging adult females. International Journal of Psychophysiology 137 (2019) 12–20. https://doi.org/10.1016/j.ijpsycho.2018.12.013
Li, D., Zhang, W., and Wang, Y. (2015). Parental behavioral control, psychological control and chinese adolescents' peer victimization: the mediating role of self-control. J. Child Family Stud. 24, 628–637. http://doi.org/10.1007/s10826-013-9873-4
Villanueva, V. J., and Serrano, S. (2019). Patrón de uso de internet y control parental de redes sociales como predictor de sexting en adolescentes: unaperspectiva de género. Revista De Psicol. Educ. 14, 16–26. http://doi.org/10.23923/rpye2019.01.168
Alvarez-Gracia, D., Paloma G.C., J. Carlos N., C. Rodriguez, R. Cerezo. Impact of Family and Friends on Antisocial Adolescent Behavior: The Mediating Role of Impulsivity and Empathy. Frontiers in Psychology Volume 10. September 2019. http://doi.org/10.3389/fpsyg.2019.02071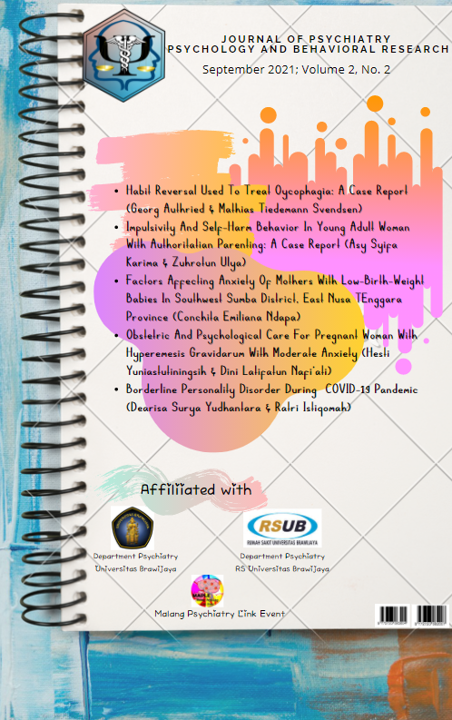 Downloads
How to Cite
Karima, A. S., & Ulya, Z. (2021). IMPULSIVITY AND SELF-HARM BEHAVIOR IN YOUNG ADULT WOMAN WITH AUTHORITATIAN PARENTING: A CASE REPORT. Journal of Psychiatry Psychology and Behavioral Research, 2(2), p. 4–6. https://doi.org/10.21776/ub.jppbr.2021.002.02.2