FACTORS AFFECTING ANXIETY OF MOTHERS WITH LOW-BIRTH-WEIGHT BABIES IN SOUTHWEST SUMBA DISTRICT, EAST NUSA TENGGARA PROVINCE
Abstract
The World Health Organization (WHO) states that 60-80% of the infant mortality rate (IMR) occurs due to low birth weight. Low Birth Weight (LBW) contributes 60% -80% of neonatal mortality. The Indonesian Health Demographic Survey (IDHS) in 2017 showed that the incidence of LBW in Indonesia reached 6.2% with a fairly high prevalence. These various effects of LBW are what then causes babies to often require intensive care in the hospital. This condition can then lead to anxiety in parents. Therefore, this study was conducted to determine the factors that influence anxiety in mothers who have babies with LBW conditions in Southwest Sumba Regency. This research was conducted on 20-26 March 2021 with a qualitative approach through interviews and measuring anxiety levels using the HARS questionnaire. The study population was all mothers who had LBW babies in Southwest Sumba. The research subjects were 6 respondents who were selected through the purposive sampling technique. The results showed that there were several factors that influenced the anxiety of mothers with LBW babies, including the mother's age at pregnancy, the amount of parity, and education.
Keyword: LBW, Risk Factor, Anxiety
References
Ika. Jumlah Bayi Berat Lahir Rendah Masih Tinggi. 2015; www.ugm.ac.id. Retrieved from www.ugm.ac.id: https://www.ugm. ac.id/id/berita/10695-jumlah-bayi-beratlahir-rendah-masih-tinggi
Humaira B, Rifdi F. Analisis Kecemasan Ibu dengan Perawatan Bayi BBLR di Rumah Sakit dr Ahmad Muchtar Bukittinggi Tahun 2018 Bunga. 2019; 1(2): 76–84.
Gogoi N. Socio-Demographic Determinants Of Low Birth Weight In Northeastern City, India. Int J Integr Med Sci. 2018; 5(3): 587–91.
Putra G, Sohibien D, Yuhan Rj. Determinan Kejadian Berat Badan Lahir Rendah (BBLR) di Indonesia. J Apl Statiska Komputasi. 2019; V (11).
Dhilon Da, Fitri E. Pengaruh Perawatan Metode Kangguru Terhadap Kenaikan Berat Badan Pada Bayi Berat Badan Lahir Rendah (BBLR) di RS Sekabupaten Kampar Tahun 2018. J Doppler. 2019; 3(1): 1–11.
Hartiningrum I, Fitriyah N. Bayi Berat Lahir Rendah (BBLR) di Provinsi Jawa Timur Tahun 2012-2016. J Biometrika Dan Kependud. 2018; 7(2): 97–104.
Aryastami Nk, Shankar A, Kusumawardani N, Besral B, Jahari Ab. Low Birth Weight Was The Most Dominant Predictor Associated With Stunting Among Children Aged 12 – 23 Months In Indonesia. Bmc Nutr. 2017; 1–6.
Mutiara S, Hastuti Rp. Faktor-Faktor yang Berhubungan dengan Tingkat Kecemasan Orang Tua Bayi BBLR di RSUD HM Ryacudu dan RS Handayani Kotabumi – Lampung Utara Pendahuluan. Vol. 9, Jurnal Kesehatan Metro Sai Wawai. 2016. P. 51– 5.
Hailu Ld, Kebede Dl. Determinants Of Low Birth Weight Among Deliveries At A Referral Hospital In Northern Ethiopia. Biomed Res Int. 2018; 1–9.
Perwiraningtyas P, Ariani Nl, Anggraini Cy, Ilmu F, Universitas K, Tunggadewi T. Analisis Faktor Resiko Tingkat Berat Bayi Lahir Rendah. 2018; 3(3).
Kusparlina Ep. Hubungan Antara Umur dan Status Gizi Ibu Berdasarkan Ukuran Lingkar Lengan atas dengan Jenis BBLR. 2016; VII(1): 21–6.
Sembiring Jb, Pratiwi D, Sarumaha A. Hubungan Usia, Paritas dan Usia Kehamilan dengan Bayi Berat Lahir Rendah di RSU Mitra Medika Medan Periode 2017. J Bidan Komunitas. 2017; I(1): 38–46.
Khoiriah A. Hubungan Antara Usia dan Paritas Ibu Bersalin Dengan Bayi Berat Lahir Rendah (BBLR) di Rumah Sakit Islam Siti Khadijah Palembang. Jurnal Kesehatan. 2015; VIII(2): 310–4.
Novitasari A, Hutami Ms, Pristya Tyr. Pencegahan dan Pengendalian BBLR di Indonesia: 2020; 2(3): 175–82.
Indrayati N, Santoso Dya. Kesiapan Orangtua dalam Merawat Bayi Berat Lahir Rendah Melalui Edukasi Perawatan BBLR. 2020; 3(4): 549–56.
Cutland Cl, Lackritz Em, Mallett-Moore T, Bardají A, Chandrasekaran R, Lahariya C, Et Al. Low Birth Weight: Case Definition & Guidelines for Data Collection, Analysis , And Presentation Of Maternal Immunization Safety Data. Vaccine. 2017; 35(48): 6492–500. Available From: Https://Doi.Org/10.1016/J.Vaccine.2017.01.049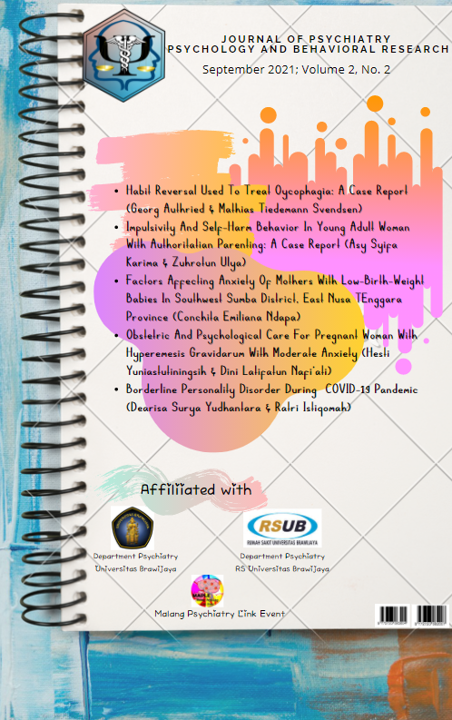 Downloads
How to Cite
Ndapa, C. E. (2021). FACTORS AFFECTING ANXIETY OF MOTHERS WITH LOW-BIRTH-WEIGHT BABIES IN SOUTHWEST SUMBA DISTRICT, EAST NUSA TENGGARA PROVINCE. Journal of Psychiatry Psychology and Behavioral Research, 2(2), p. 7–10. https://doi.org/10.21776/ub.jppbr.2021.002.02.3