HABIT REVERSAL USED TO TREAT ONYCHOPHAGIA: A CASE REPORT
Keywords:
Onychophagia, habit reversal, quality of life.
Abstract
Chronic nail biting (onychophagia) is a common habit which negatively impacts on the quality of life of those affected, has a negative social impact, and is accompanied with disabling inflammatory processes like gingivitis and paronychia. Habit reversal is a behaviour treatment procedure used to help patients get rid of the habit. The presented case report describes how a six-month period of habit reversal prescribed by the dermatologist was used to treat a 42-year male suffering from life-long onychophagia. During the treatment period, the patient experienced both an improved growth of nails and an improvement in quality of life, but never got fully cured from the habit. Finally, suggestions for an improved treatment success by prescribing habit reversal in specialized onychophagia clinics run by a multidisciplinary team (consisting of e.g., dermatologists, psychiatrists, and psychologists) who ensure regular follow-ups and patient compliance is provided.
References
Pacan P, Reich A, Grzesiak M, Szepietowski JC. Onychophagia is associated with impairment of quality of life. Acta dermato-venereologica. 2014;94(6):703-706.
Halteh P, Scher RK, Lipner SR. Onychophagia: A nail-biting conundrum for physicians. J Dermatolog Treat. 2017;28(2):166-172.
Miltenberger RG, Fuqua RW, Woods DW. Applying behavior analysis to clinical problems: review and analysis of habit reversal. J Appl Behav Anal. 1998;31(3):447-69.
Woods DW, Miltenberger RG. Habit reversal: a review of applications and variations. J Behav Ther Exp Psychiatry. 1995;26(2):123-31.
Woods D, Miltenberger R. A Review of Habit Reversal with Childhood Habit Disorders. Education and Treatment of Children. 1996;19:197-214.
Zachariae R, Zachariae C, Ibsen H, Mortensen JT, Wulf HC. Dermatology life quality index: data from Danish inpatients and outpatients. Acta Derm Venereol 2000;80:272-6.
Bohne A, Keuthen N, Wilhelm S. Pathologic hairpulling, skin picking, and nail biting. Ann Clin Psychiatry. 2005;17(4):227-32.
Ghanizadeh A, Bazrafshan A, Firoozabadi A, Dehbozorgi G. Habit Reversal versus Object Manipulation Training for Treating Nail Biting: A Randomized Controlled Clinical Trial. Iran J Psychiatry. 2013;8(2):61-7.
Ghanizadeh A, Derakhshan N, Berk M. N-acetylcysteine versus placebo for treating nail biting, a double blind randomized placebo controlled clinical trial. Antiinflamm Antiallergy Agents Med Chem. 2013;12(3):223-8.
Koritzky G, Yechiam E. On the value of nonremovable reminders for behavior modification: an application to nail-biting (onychophagia). Behav Modif. 2011;35(6):511-30.
Azrin NH, Nunn RG. Habit-reversal: a method of eliminating nervous habits and tics. Behav Res Ther. 1973;11(4):619-28.
Silber KP, Haynes CE. Treating nailbiting: a comparative analysis of mild aversion and competing response therapies. Behav Res Ther. 1992;30(1):15-22.
Allen KW. Chronic nailbiting: a controlled comparison of competing response and mild aversion treatments. Behav Res Ther. 1996;34(3):269-72.
Twohig MP, Woods DW, Marcks BA, Teng EJ. Evaluating the efficacy of habit reversal: comparison with a placebo control. J Clin Psychiatry. 2003 Jan;64(1):40-8.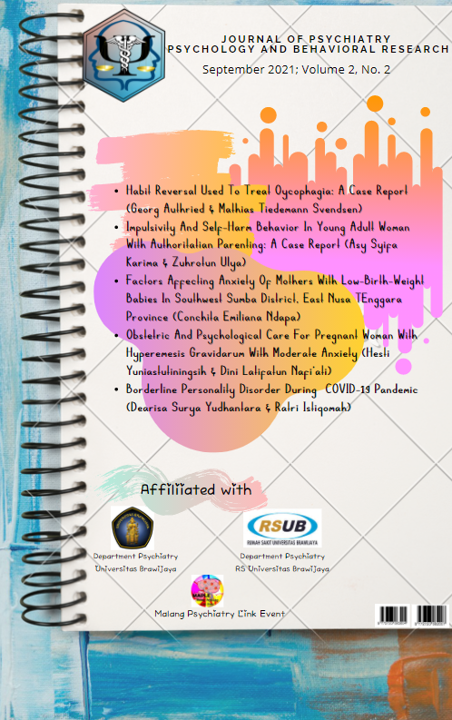 Downloads
How to Cite
Authried, G., & Svendsen, M. T. (2021). HABIT REVERSAL USED TO TREAT ONYCHOPHAGIA: A CASE REPORT. Journal of Psychiatry Psychology and Behavioral Research, 2(2), p. 1–3. https://doi.org/10.21776/ub.jppbr.2021.002.02.1