IMPLEMENTATION OF DIFFERENT CULTURES TO INFLUENCE POSTPARTUM DEPRESSION
Keywords:
culture, postpartum depression, traditional norms
Abstract
Background: Postpartum depression (PPD) is a big problem that could cause effect adversely on postnatal mother's mental health and cognitive and physical development for their children even though it is well known, disabling, and treatable. The prevalence of postpartum depression in the Middle East hasthe highest number(26%) but in contrast, Europe is on the lowest (8%). Postpartum practices traditionally are utilized for providing care to mothers. However, there are some evidence-based regarding particular outcomes of postpartum depression.
Objective: To know about different cultures contributing to postpartum depression.
Method: A literature review was conducted across 5 databases including PubMed, MEDLINE, PMC, Science Direct, and Taylor Francis
Online between 2015 and 2021 which related particularly to cultural belief in postpartum and postpartum depression. The result will be determined by literature review.
Results: There are a wide range of different culture that were implemented upon postpartum period in Western country and Asian Country resulting postpartum depression. Idealized mother, multitasking, having a good financial, job, bonding with infant, is emphasized in Western Country while Asian Country have certain culture in every region. However, gender is common in both nations to cause depression
Conclusion: Postpartum depression is psychological disorder which can suffer during postpartum period culture is one of the included causes of it and gender preference is the most issue which lead postpartum depression.
Keywords: cultures, postpartum, depression.
References
Dadi AF, Akalu TY, Baraki AG, Wolde HF. Epidemiology of postnatal depression and its associated factors in Africa: A systematic review and meta-analysis. PLoS One [Internet]. 2020;15(4). Available from: http://dx.doi.org/10.1371/journal.pone.0231940
Mohammad Redzuan SA, Suntharalingam P, Palaniyappan T, Ganasan V, Megat Abu Bakar PN, Kaur P, et al. Prevalence and risk factors of postpartum depression, general depressive symptoms, anxiety and stress (PODSAS) among mothers during their 4-week postnatal follow-up in five public health clinics in Perak: A study protocol for a cross- sectional study. BMJ Open. 2020;10(6):e034458.
Wubetu-abate D, Engidaw NA, Gizachew KD. Prevalence of postpartum depression and associated factors among postnatal care attendees in Debre Berhan, Ethiopia, 2018. 2020;4:1–9.
Shorey S, Chee CYI, Ng ED, Chan YH, Tam WWS, Chong YS. Prevalence and incidence of postpartum depression among healthy mothers: A systematic review and meta-analysis. J Psychiatr Res [Internet]. 2018;104:235–48. Available from: https://doi.org/10.1016/j.jpsychires.2018.08.001
Smorti M, Ponti L, Pancetti F. A Comprehensive Analysis of Post-partum Depression Risk Factors: The Role of Socio-Demographic, Individual, Relational, and Delivery Characteristics. Front Public Heal. 2019;7(October):1–10.
Bina R. The impact of cultural factors upon postpartum depression: A literature review. Health Care Women Int. 2008;29(6):568–92.
Kaewsarn P, Moyle W, Creedy D. Traditional postpartum practices among Thai women. J Adv Nurs. 2003;41(4):358–66.
Krüger C. Culture, trauma and dissociation: A broadening perspective for our field. J Trauma Dissociation [Internet]. 2020;21(1):1–13. Available from: https://doi.org/10.1080/15299732.2020.1675134
Jin Q, Mori E, Sakajo A. Risk factors, cross-cultural stressors and postpartum depression among immigrant Chinese women in Japan. Int J Nurs Pract. 2016;22:38–47.10.
Sampson M, Torres MIM, Duron J, Davidson M. Latina Immigrants' Cultural Beliefs About Postpartum Depression. Affil - J Women Soc Work. 2018;33(2):208–20.
Farías-Antúnez S, Xavier MO, Santos IS. Effect of maternal postpartum depression on offspring's growth. J Affect Disord [Internet]. 2018;228:143–52. Available from: https://doi.org/10.1016/j.jad.2017.12.013
Badr LK. Is the effect of postpartum depression on mother-infant bonding universal? Infant. Behav Dev [Internet]. 2018;51(February):15–23. Available from: https://doi.org/10.1016/j.infbeh.2018.02.003
Slomian J, Honvo G, Emonts P, Reginster JY, Bruyère O. Consequences of maternal postpartum depression: A systematic review of maternal and infant outcomes. Vol. 15, Women's Health. 2019.
Maxwell D, Robinson SR, Rogers K. "I keep it to myself": A qualitative meta-interpretive synthesis of experiences of postpartum depression among 29 marginalised women. Heal Soc Care Community. 2019;27(3):e23–36.
Albuja AF, Lara MA, Navarrete L, Nieto L. Social Support and Postpartum Depression Revisited: The Traditional Female Role as Moderator among Mexican Women. Sex Roles [Internet]. 2017;77(3–4):209–20. Available from:http://dx.doi.org/10.1007/s11199-016-0705-z
Ye Z, Wang L, Yang T, Chen LZ, Wang T, Chen L, et al. Gender of infant and risk of postpartum depression: a meta-analysis based on cohort and case-control studies. J Matern Neonatal Med [Internet]. 2020;0(0):1–10. Available from: https://doi.org/10.1080/14767058.2020.1786809
Abdollahi F, Etemadinezhad S, Lye MS. Postpartum mental health in relation to sociocultural practices. Taiwan J Obstet Gynecol [Internet]. 2016;55(1):76–80. Available from: http://dx.doi.org/10.1016/j.tjog.2015.12.008
Ding G, Niu L, Vinturache A, Zhang J, Lu M, Gao Y, et al. "Doing the month" and postpartum depression among Chinese women: A Shanghai prospective cohort study. Women and Birth [Internet]. 2020;33(2):e151–8. Available from: https://doi.org/10.1016/j.wombi.2019.04.004
Tsao Y, Creedy DK, Gamble J. Prevalence and Psychological Correlates of Postnatal Depression in Rural Taiwanese Women. Health Care Women Int. 2015;36(4):457–74.
Stana A, Miller AR. "Being a mom = having all the feels": social support in a postpartum depression online support group. Atl J Commun [Internet]. 2019;27(5):297–310. Available from: https://doi.org/10.1080/15456870.2019.1616736
Alzahrani AD. Risk Factors for Postnatal Depression among Primipara Mothers. Span J Psychol. 2019;1–8.
Ponting C, Chavira DA, Ramos I, Christensen W, Guardino C, Schetter CD. Postpartum Depressive Symptoms in Low-Income Latinas: Cultural and Contextual Contributors. Cult Divers Ethn Minor Psychol. 2020;
Hyde JS, Mezulis AH. Gender Differences in Depression: Biological, Affective, Cognitive, and Sociocultural Factors. Harv Rev Psychiatry. 2020;28(1):4–13.
Borra C, Iacovou M, Sevilla A. New Evidence on Breastfeeding and Postpartum Depression: The Importance of Understanding Women's Intentions. Matern Child Health J. 2015;19(4):897–907.
Werner EA, Gustafsson HC, Lee S, Feng T, Jiang N, Desai P, et al. PREPP: postpartum depression prevention through the mother–infant dyad. Arch Womens Ment Health. 2016;19(2):229–42.
Afolabi O, Bunce L, Lusher J, Banbury S. Postnatal depression, maternal–infant bonding and socialsupport: a cross-cultural comparison of Nigerian and British mothers. J Ment Heal [Internet]. 2020;29(4):424–30. Available from: https://doi.org/10.1080/09638237.2017.1340595
Alhasanat-Khalil D, Fry-McComish J, Dayton C, Benkert R, Yarandi H, Giurgescu C Acculturative stress and lack of social support predict postpartum depression among U.S. immigrant women of Arabic descent. Arch Psychiatr Nurs [Internet]. 2018;32(4):530–5. Available from: http://dx.doi.org/10.1016/j.apnu.2018.02.005
Pham D, Cormick G, Amyx MM, Gibbons L, Doty M, Brown A, et al. Factors associated with postpartum depression in women from low socioeconomic level in Argentina: A hierarchical model approach. J Affect Disord [Internet]. 2018;227(September 2017):731–8. Available from: https://doi.org/10.1016/j.jad.2017.11.091
Sheela CN, Venkatesh S. Screening for Postnatal Depression in a Tertiary Care Hospital. J Obstet Gynecol India. 2016;66:72–6.
Murray L, Dunne MP, Van Vo T, Anh PNT, Khawaja NG, Cao TN. Postnatal depressive symptoms amongst women in Central Vietnam: A cross-sectional study investigating prevalence and associations with social, cultural and infant factors. BMC Pregnancy Childbirth. 2015;15(1):1–12.
Sundström Poromaa I, Comasco E, Georgakis MK, Skalkidou A. Sex differences in depression during pregnancy and the postpartum period. J Neurosci Res. 2017;95(1–2):719–30.
Cheung NF. Chinese zuo yuezi (sitting in for the first month of the postnatal period) in Scotland. Midwifery. 1997;13(2):55–65.
Xiong R, Deng A. Prevalence and associated factors of postpartum depression among immigrant women in Guangzhou, China. BMC Pregnancy Childbirth. 2020;20(1):1–7.
Goyal D, Lee J, Cho IH, Kim A. Korean Immigrant Women's.
Goyal D, Park VT, McNiesh S. Postpartum depression among Asian Indian mothers. MCN Am J Matern Nurs. 2015;40(4):256–61.
Liu YQ, Maloni JA, Petrini MA. Effect of Postpartum Practices of Doing the Month on Chinese Women's Physical and Psychological Health. Biol Res Nurs. 2014;16(1):55–63.
Ho M, Li TC, Liao CH, Su SY. The Association between Behavior Restrictions in Doing- the-Month Practice and Mental Health Status among Postpartum Women. J Altern Complement Med. 2015;21(11):725–31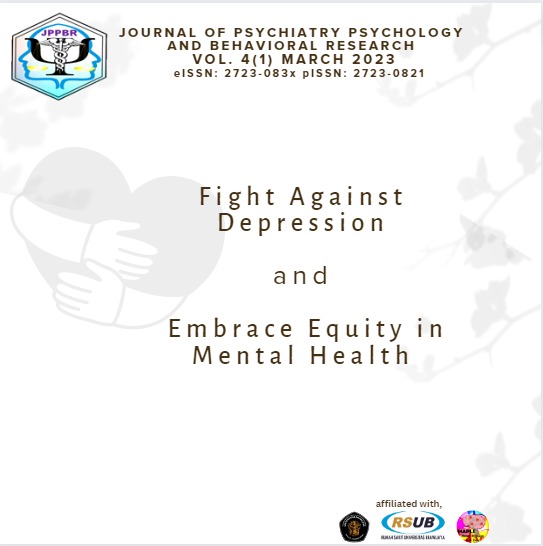 Downloads
How to Cite
Nurhidayah, S. (2023). IMPLEMENTATION OF DIFFERENT CULTURES TO INFLUENCE POSTPARTUM DEPRESSION. Journal of Psychiatry Psychology and Behavioral Research, 4(1), 22–29. https://doi.org/10.21776/ub.jppbr.2023.004.01.7
License
Copyright (c) 2023 Journal of Psychiatry Psychology and Behavioral Research
This work is licensed under a Creative Commons Attribution-ShareAlike 4.0 International License.